Are you sick of the breakneck pace of Interstate 5 between Portland and Tacoma? Are you looking for a better way to get to Southwestern Washington or the St. Helens Volcanic Monument? State Route 7 might be the answer to your question.
SR7 isn't one of the more picturesque ways of gettting out of the Seattle-Tacoma metro area, but it's better than Interstate 5. While SR7 certainly isn't a wide-open, empty, or untraveled road, it's far better than I-5. It certainly is rather nice in that wide sweeperish sense common to Western Washington's newer rural highways.
Northbound on 7 near Alder Lake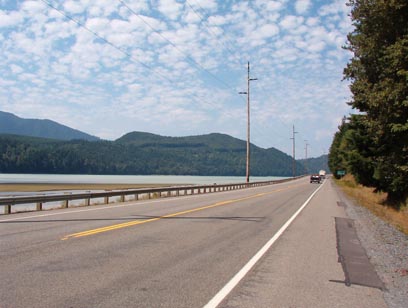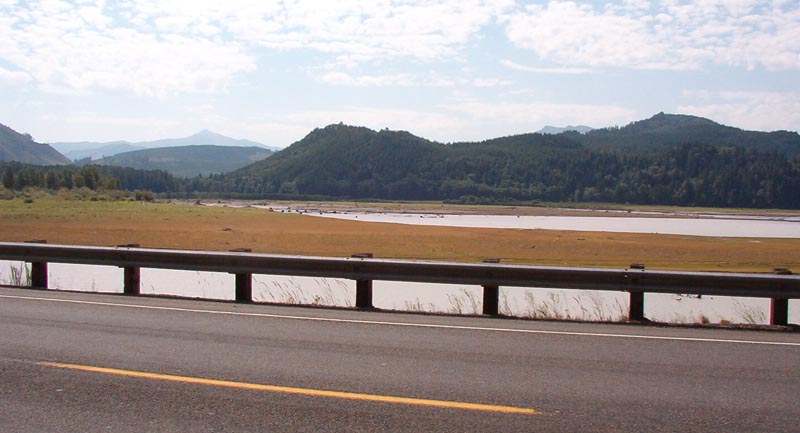 Alder Lake
Left in place almost as a surprise, is a very nice set of twisties that can be found near the Nisqually River and Alder lake. The corners are marked from 25-35mph and are quite enjoyable if you can avoid getting stuck behind a truck or RV. There's a few sweepers that can be ridden quite aggresively with a decent view of the corner, where the trees aren't so close to the road. Most sport riders familiar with the road prefer to turn around a few times on these curves to get a few good runs in, just watch out for various nasty activities and vandalism by the local residents. They'll call the police at the drop of a hat, and have been known to pour oil on the road.
While SR7 actually starts up near Spanaway, its southern terminus is down at US Route 12 in Morton. If you are heading south to Vancouver or the west side of Helens, I recommend you gas up at Eatonville (Morton P.D. is notorious for persecuting motorcyclists and fuel in Elbe is outrageously expensive) and take State Route 508 west to I-5. If you're going east to Yaki-Vegas or the Windy Ridge side of Helens, go slowly through Morton and gas up at Randle. Morton P.D. has been known to pull entire groups of motorcyclists over that are riding at most 1-2mph over and write everyone up for 10-15 over.
Very few passing zones south of Eatonville. SR 508 heads west just as you get into the outskirts of Morton. Rather good for those days when they have festivals going on downtown."
If you're taking SR7, Mineral Hill Road is highly recommended
Overview Map of Washington State Route 7: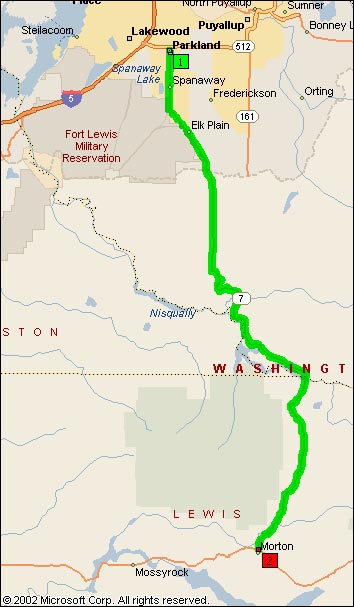 Google Map: