Sagebrush Flats Road
courtesy of John O'Callaghan
Central Washington's arid country often appears barren and drab to the casual, unfamiliar eye. But take a ride on some of our backroads and travel against the grain of I-90 and US 2 to find some sweeping vistas, dramatic coulees and even the odd winding road. While most of the farm and range land in this part of the state is transversed by section-line straight roads, there are topographically friendly lines to be found that provide fun rides through beautiful country.
Sagebrush Flats Road is a typical county road in Grant County. Re-surfaced in the last four or five years, it climbs at a moderate rate, north, out of the City of Ephrata over the Beezley Hills into Sagebrush Flats at the Grant County/Douglas County line. This nice stretch intermingles sweeping curves and short straights. The name changes to Rimrock Road as it crosses the county line in the middle of a longer straight away. Up and over the Rimrock area, you drop down into the middle section of Moses Coulee and wind north along the west side of the coulee to US 2. Two sharper curves will make you pay attention, but otherwise it's nice quick sweepers. There are four cattle guards, but they can be taken at speed as long as they are crossed straight on.
Sagebrush Flats Road, looking North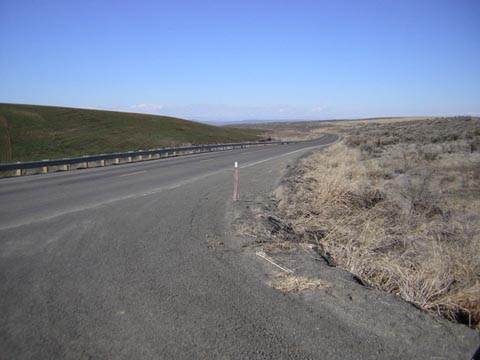 Overview Map: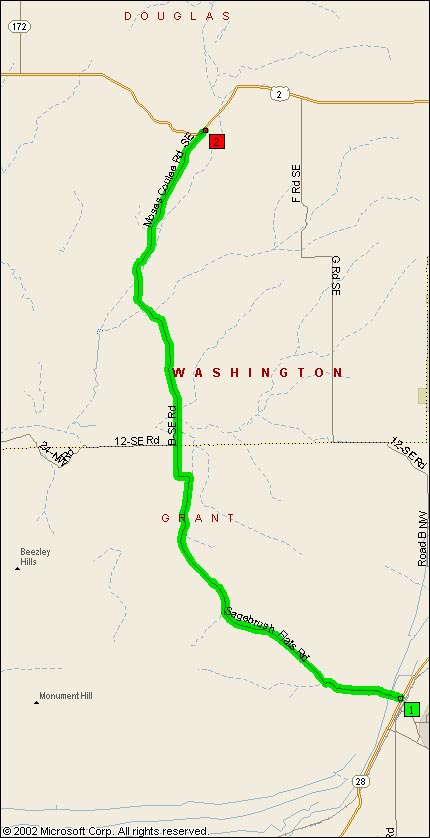 Google Map: