The WRR is one of the best motorcycle roads in Clark County. It has great pavement, twisty sections, tight blind corners, and a beautiful river to travel next to. There is also something here to make the trip a little less fun: lots of traffic. This road can be empty, or packed. Hopefully when you get there, traffic will be light. This is also a dangerous road, with many minor accidents each year, and more than it's fair share of fatalities.
To get there, you turn North off of WA 14 at 15th street in Washougal. There is an AM/PM gas station after you turn north, and then a 76 station after you go over the bridge over the train tracks. Continue north on 17th, and it will turn in to the WRR. Things start to get fun right after you leave the city limits. Watch for people drifting over the centerline on this road, and in nice weather, watch out for people looking for places to pull off the road for recreation. You can take the WRR to the Washougal River Mercantile store, and turn south to return to WA 14, or head further up the WRR to where the pavement ends, then turn around and have fun coming back the other way. If you're out in this are exploring, check out Mt Pleasant road off of Canyon Creek Road on the way back to WA 14, or the old section of Salmon Falls Road, just off the intersection of Canyon Creek, Salmon Falls road, and Ryan Tavelli Road.
Have fun, but be careful and watch out for stupid cagers!
Road report courtesy of Dan Jacobs, a resident of the area.
This road was removed from the list of official Washington State Highways effective April 1st, 1992.
Overview Map: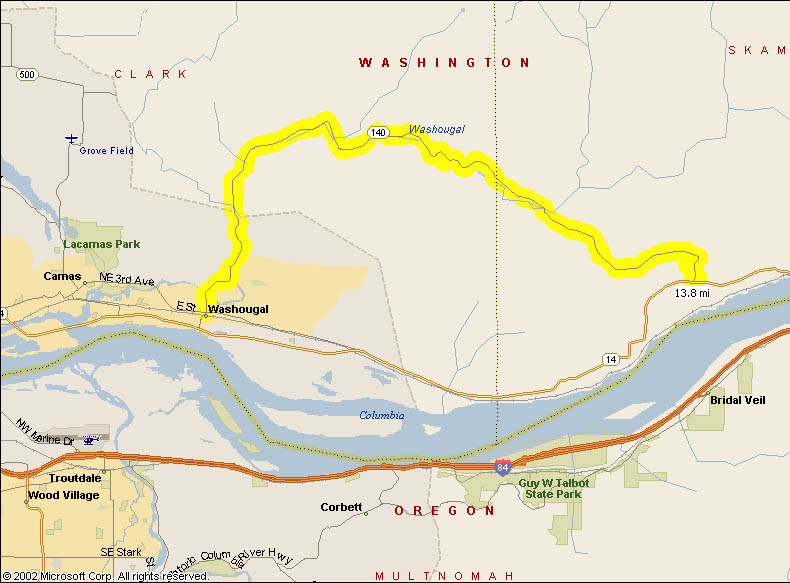 Map of Downtown Washougal: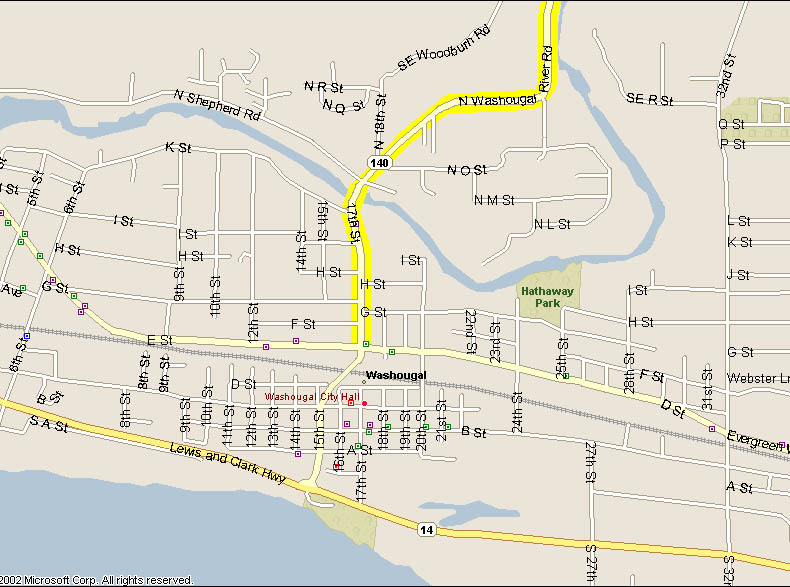 Google Map for Washougal River Road: