Map of State Route 203 with nearby recommended roads: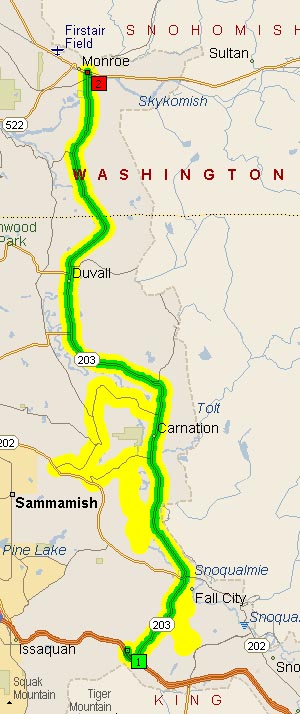 Covering Washington State Route 203, Preston-Fall City Rd, Fall City-Carnation Rd, Carnation-Duvall Rd., Tolt Hill Rd., Snoqualmie River Rd. Ames Lake/Carnation Rd, and Lake Alice Rd.
State Route 203
Preston-Fall City Rd, Fall City-Carnation Rd, Carnation-Duvall Rd.
203 winds its way northward from I-90 up towards US2, changing its local name at each town you pass through. Being a state highway, most of the curves are sweepers throughout the route, the kind of road perfect for a sedate ride early on a Saturday morning. The speed limit on 203 is rather low for such gentle sweepers, and appears to be the result of targetting commuters who are suffering from velocitation after driving on I-90.
I first did this trip mostly as a check ride to verify my electric repairs worked, loop up around Carnation on the following roads. It took me about 2.5 hours but I wasn't moving very quickly either. I think it's a nice little destination ride if you have a couple hours to go riding but don't want to burn up your entire day riding up into the Cascades via Snoqualmie or Stevens Pass.
---
Tolt Hill Road
Tolt Hill Road is a mix of curves and sweepers, some marked as low as 15mph and some sweeper with no speed markers at all. The 'historic' section between Fall City-Carnation Road and the Snoqualmie Rover bridge is an old, narrow composite construction with a narrow gravelly shoulder, and the rest of the road is newer and smoother but has a nearly non-existant shoulder.View of the Tolt Hill Road bridge over the Snoqualmie River

View southeast towards Snoqualmie Pass and the Cascade peaks.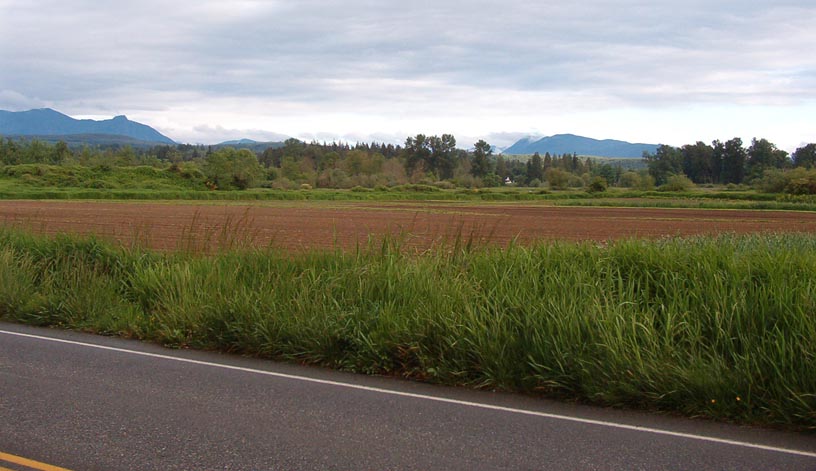 ---
Snoqualmie River Road
Snoqualmie River Road is a nice little diversion, about 4 miles long branching off Tolt Hill Road southwest of Carnation. It's a bit bumpy and rather closely lined by various farms, so it's not unlikely to find a bit of manure in the road or a tractor in a blind corner. The road surface itself is rather bumpy but is well traveled and I didn't see much in the way of gravel except at the very northern and southern extremes of the road. The corners are marked 15-25 miles per hour most of them being right angles with varying degrees of sharpness and most have an even camber with very little crowning of the roadbed.The road itself rather obviously runs along the Snoqualmie River (on the west side), and links up with Tolt Hill Road about 2/3 mile west of Fall City-Carnation Road (WA SR203).
Up Northwards along Snoqualmie River Road.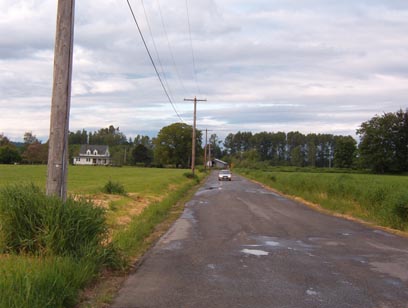 Map of Snoqualmie River Road: