Washington State Route 410 (from Junction WA SR123 to Naches, including Cayuse & Chinook Passes)
WA 410 east of the mountain passes is rather obviously an old U.S. Federal route. WSDOT simply doesn't build highways of this quality or style anymore (or at least not in Western Washington where I live). The curves are tight but smooth, are well-marked at 40-50mph and generally maintain even radius.
Dryside State Route 410, facing west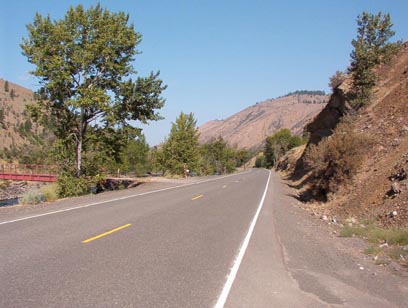 The pavement is reasonably smooth and not prone to the ridiculous degree of cracks, potholes, heaving, and rutting so familiar to a Seattle moto-commuter. Bluffs and cliffs overhang nearly all of the corners, yet rocks and gravel appear to be quite rare in mid-summer's extremes of cold and hot each daily cycle
View of a ranch across the Naches River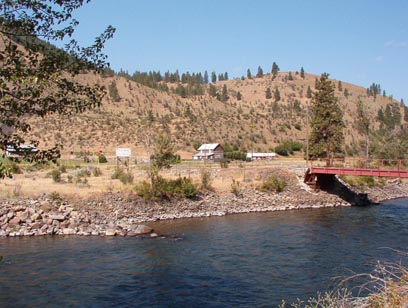 Inside the National Forest and National Park lands, there is a far different story to tell. The road itself is still clearly of the same high quality construction as the eastern paving, but the signage and safety equipment has been tragically neglected. One stretch of rusted guardrail has slid halfway down the drop-off, whose bottom is several hundred feet below. The road itself is still in decent shape and is quite a testament to its builders, but sun and weather are starting to take its toll on the otherwise smooth surface. Inside the federal lands, curve speeds recommendations appeared to be more random and its correlation to curve radius was reduced markedly. Some curves were rather tight with no speed recommendation at all, yet some very gentle sweepers were posted as low as 35-40mph.
Naches River, facing downstream. It was already quite hot by 10:30 when I took this shot in July 2004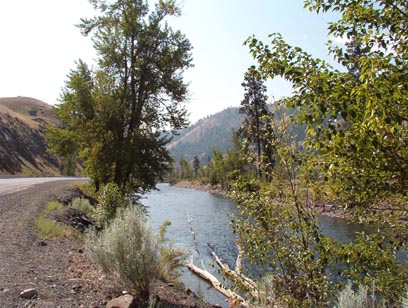 The scenery in the Naches River valley is quite delightful. The plants along the river are bright green and contrast distinctly with the parched brown hillsides. The mountain passes are simply stunning, and the views are impressive from the ridgeside roads coming down from Cayuse Pass. Tipsoo Lake just west of Chinook Pass is reputed to be one of the most photographed sites in North America.
View of Chinook Pass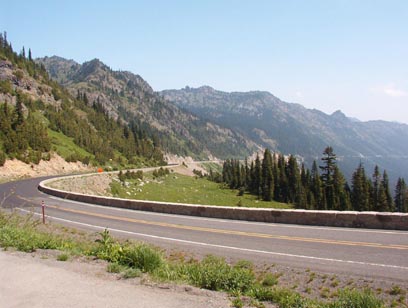 A hiking path that leads up from the tourist station. You can clearly see the snow on the ground on July 8th.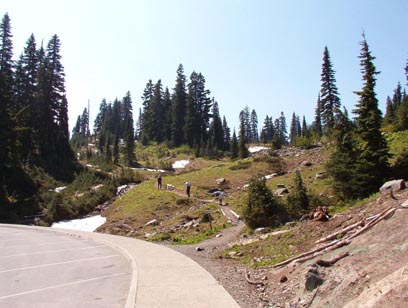 Map of Washington SR410 from SR123 at Cayuse Pass to Junction US12: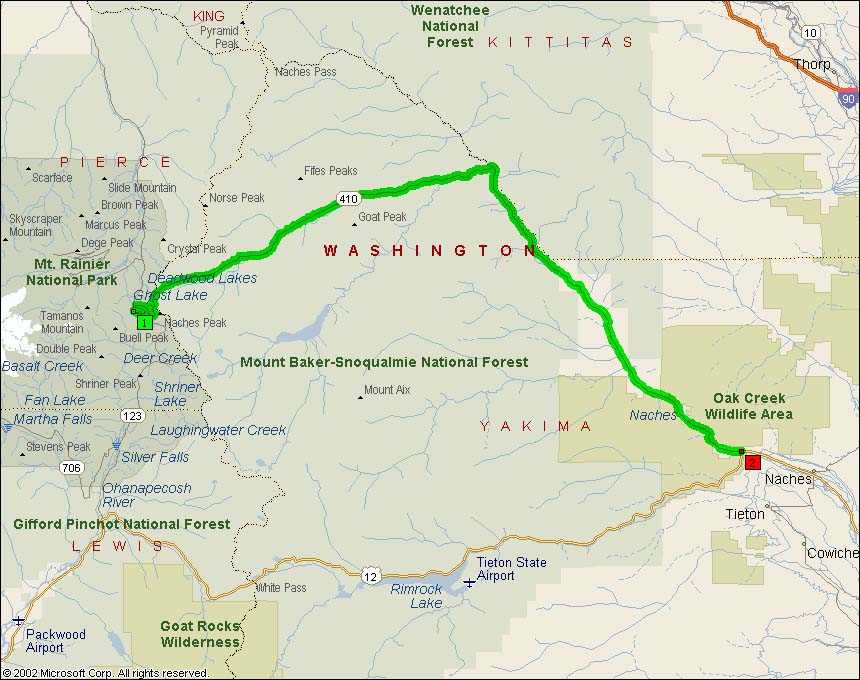 Google Maps: