There's a sweet little piece of tarmac up over the Cascades that offers a much better route for the corner-loving sport-touring rider. US2 is this road, the interesting part running between Monroe and Leavenworth. US2 runs up over Stevens Pass and has some very nice mid-speed sweepers, marked at 50mph including a very nice hairpin up in the top of that pass within the 4-lane "freeway" section.
One of the primary drawbacks to US2 over Stevens Pass is the RV and tourist traffic. If you end up in the main weekend traffic flow out of and returning to the Seattle area, you can expect 35mph lineups extending for miles. Summers are especially trying as the traffic is slow, drivers frustrated, and temps are quite warm.
While some of the road does look like this, there are some sweet high-speed sweepers up in the mountains: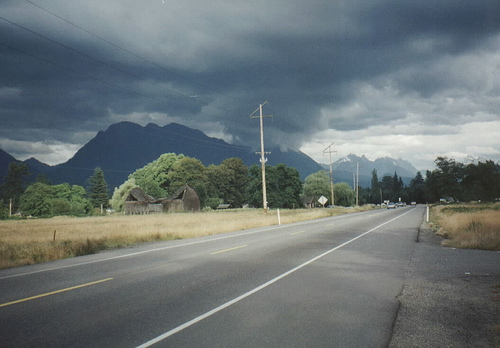 Photo by Robert Ashworth (Creative Commons: AT-SA)
As US2 is fairly local to me, I've ridden it on any number of occasions. It's one of the taller passes in Washington State and the scenery is quite nice with its mountainsides sheathed in evergreens. Even in the hottest of summer afternoons Stevens Pass stays reasonable. On July 4th a year or two ago, a fellow rider and I headed east over Stevens Pass to Wenatchee. Even with temps in the upper 80s on the wetside, temperatures remained cool all the way out of Cashmere before we hit the "Wall of Heat" of the Central Washington desert climate.
Do be careful in the little towns on both sides of the pass. The speed limits are often obnoxiously low, poorly marked, and zealously enforced. There's very little in the way of economy in many of those little towns, and you rarely get off with just a warning.
If you're not in a hurry, there are many short side roads to explore along US2. The lakes and hills around Stevens Pass provide a variety of recreational opportunities and Leavenworth has a number of very nice shops to visit in their Bavarian tourism theme. Stopping for gas at Coles Corner just east of Stevens Pass is a convenient spot to regroup and round up your riders for a short jaunt north on SR207 to get to the north end of Chumstick Road (Old SR209) that drops down through a wonderful bunch of curvaceous corners into the east end of Leavenworth.
Note: Sometimes the traffic is really bad in Leavenworth, and it might be worth your while just to go up 207 and come down on the east side avoiding the stop'n'go.
Downtown Leavenworth: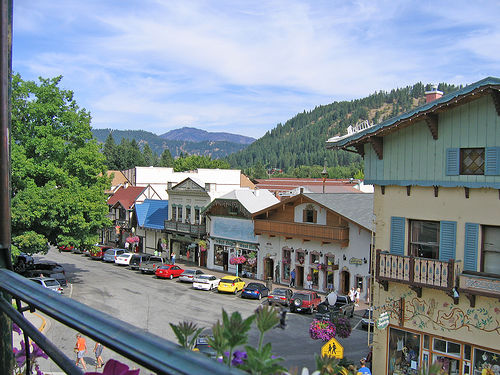 Photo by Chas Redmond (Creative Commons: AT-SA)
One thing to keep in mind is that even if it isn't terribly hot east of the Cascades, it's almost always extremely dry. Carry plenty of fluids and remember to keep your electrolytes in balance. If you're thirsty, you're already short on water and need to get rehydrating pronto. Also remember that like any ride into the backhills, you need to thoroughly prepare your bike as cell coverage can be spotty on these non-Interstate mountain passes.
Counties: Snohomish, King, Chelan
Length:
Towns: Monroe, Sultan, Gold Bar, Skykomish, Index, Coles Corner, Leavenworth
Overview Map of US Route 2, covering the section running from Monroe to Leavenworth:


Google Map: