A fine example of the Eastern Oregon highway-building, Oregon Route 19 does a little bit of a Jeckyl & Hyde routine. With this in mind, I'll be covering this road in sections.
Viewing the road from south to north, it follows Eastern Oregon's John Day River from the US Route 26 junction in the midst of the John Day fossil beds up to the Route 207 split at Service Creek. This southern third of the 120 mile route (43.9 miles) forms a wonderfully scenic stretch of roadway that hardly ever seems to be moving in a straight line. The riverine bends simply sway back and forth along the river, usually without any discernible rhythm or pattern except alternating lefts & rights.
Fuel & Services are kind of thin in this section of the roadway, but in the village of Spray, you can find gasoline and food at the Lone Elk Marketplace (active as of December 2022) and lodging can be found at one of a couple local motels and bed & breakfasts.
Cathedral Rock along the John Day River: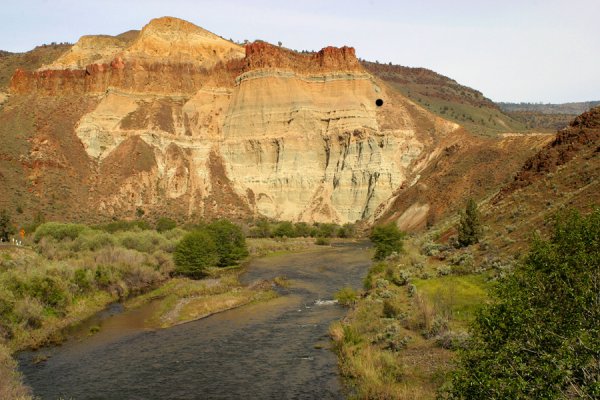 Courtesy of the US Nat. Park Svc.
The upper two-thirds of this road between the OR207 and the Columbia is much less interesting than the lower third. While it's definitely not perfectly straight, the road doesn't necessarily curve as much as it changes heading slightly every mile or so. This part of the road does have much more in the way of services, with the larger towns of Fossil, Condon, and Arlington in the north half.
Amongst those services, is the Shelton Wayside (Wheeler) County Park. They offer three dozen campsites at very reasonable rates and are located about 20 miles SE of Fossil and roughly 5 miles north of the OR207/19 split. Before you stop there, you may want to double-check if the park is open however, as I heard that a wildfire destroyed several buildings in the park a few years back.
One suggestion, if you're actively hunting out twisties while you're traveling in a north and westerly direction, I'd recommend taking OR 207 at the 207/19 split instead. You'll enjoy the wild twisties of 207 far more than the gentle sweepers of the rest of Route 19.
Counties: Grant, Wheeler
Length: 40 miles
Towns: Service Creek, Spray
Overview Map: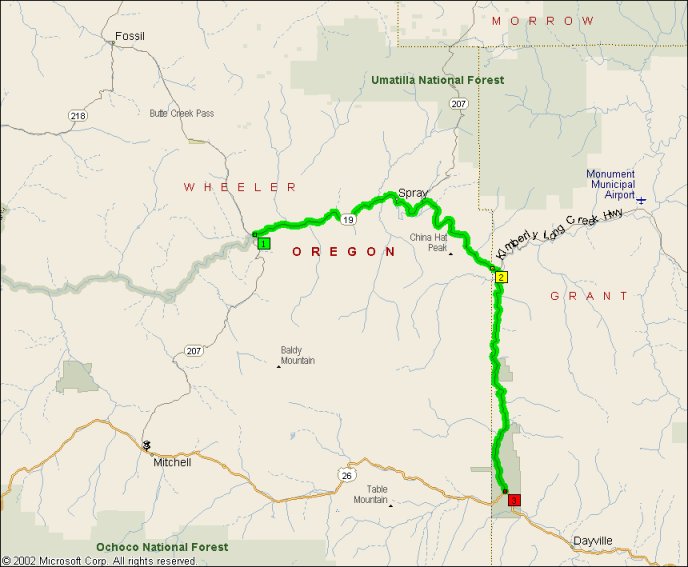 Google Map: