Back in 2007, I wrote the following and I think that it bears some further discussion:
Long known by its name, the newly minted Oregon State Route 402, is considered by some Portland sport-riders to be a destination road in its own right.

It's a mere 35 miles long and links the towns of Kimberly and Monument and the hamlet of Hamilton with US 395 on the east end and Oregon SR19 (aka John Day Hwy) on the other.

This road is reputed as the sport-bikers dream shortcut due to its low traffic volume and excellent curves. I'm sure it is enjoyable, although I'd hate to have to decide between the southwest route of the wondrous southern leg of SR19 and heavily-patrolled US26 and the northeastern route of SR402/Kimberly-Long Creek and the also-heavily-patrolled US Route 395.
Perhaps I'm a different caliber of rider than I used to be, but Oregon Route 402 isn't necessarily the walking-talking be-all end-all that I'd been told it was.
A nice twisty bit west of Monument. Lot of this on the west end, but a lot of straight stuff on the east end.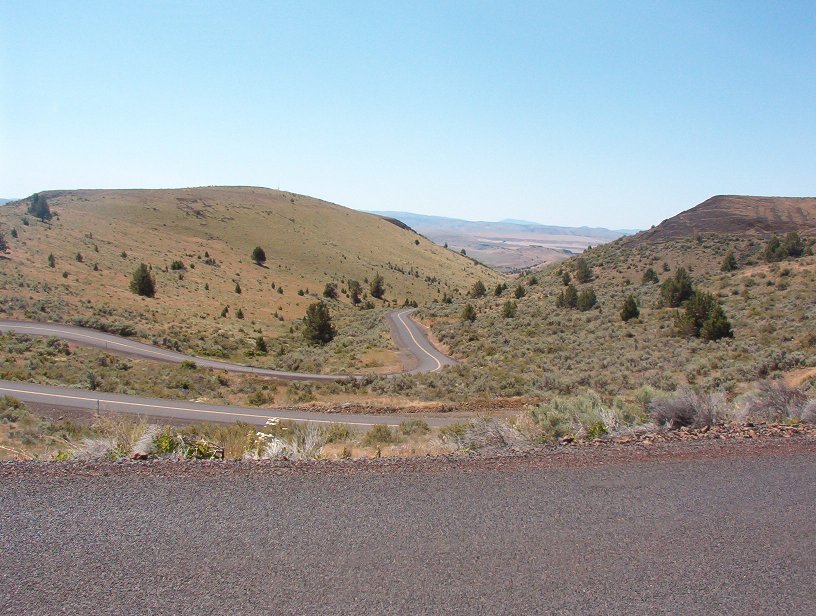 It's a good road and better by degrees than Route 26, but it's not an unbroken string of twisties for 40 miles like Route 207 between Service Creek and Mitchell or Route 74 between Vinson and Heppner. There are some very good twisty sections ascending the grade out of Kimberly and again at Schoolhouse Hill, but most of the rest is sweepers.
Irrigated valley just east of Kimberly: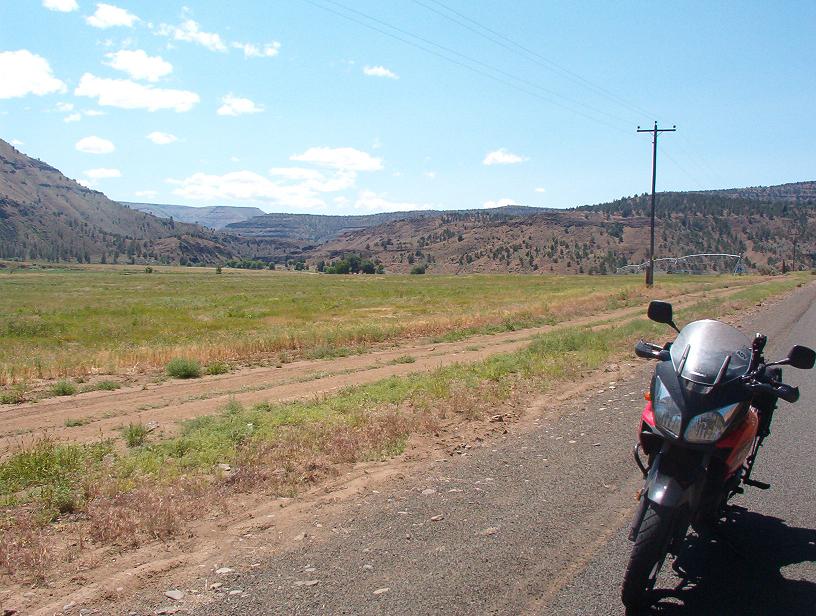 Specifically, my notes for Route 402 illustrate that on the end near Long Creek the road is mostly long straights across the high prairie around 4000′. Most of the sweepers in the middle section were intermediates in the 45mph range for a Wee-Strom and the east end were limited only by one's motorcycle and aversion to being arrested.
There's a new bridge under construction that should be complete late summer 2009. That will greatly improve safety crossing the river at Monument.
Interesting geologic formation alongside the road. There's a small marker near the road explaining that it's a thousand-plus year old landslide creeping down the hill in chunks.

Please note that there's not much left in the way of services in Long Creek. The gas station has shut down and there's a small motel just off US 395 as you roll into 'town'. The nearest gas is down on US26 or up in Dale. The one in Dale is only open certain days of the week and the weekends.
County: Grant County, Oregon
Length: 34.88 miles (per ODOT)
Towns: Kimberly, Monument, Hamilton, Long Creek
Overview Map: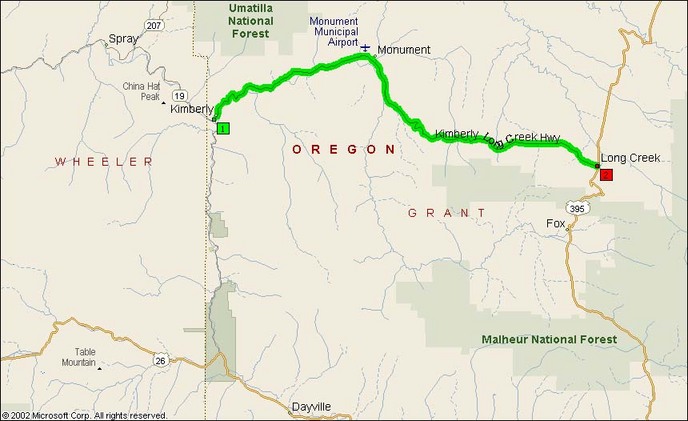 Google Map: