Just about everyone in the Pacific Northwest is familiar with Forest Service Road 25, the road that goes around the east side of Mt. St. Helens and provides a way to get to FS99 and Windy Ridge. Where FS25 is a twisty, curvy work of art done in asphalt, FS23 is another matter.
FS23 splits away from WA 39 shortly before it turns in FS25 and heads east. In the middle of FS23 is a somewhat twisty section of gravel that lasts for about 5 miles.
This road isn't a nicely maintained as FS25, and is probably recommended for adventure bikes if you plan to do the whole route. In my opinion, if you take FS90 across (and deal with its own gravel/kibble section), you get the best of FS23 if you come in there after the gravel section of FS23.
As for the rest of FS23, it comes down out of the Gifford-Pinchot National Forest via SR 141 through Trout Lake into Bingen and White Salmon where it intersects with Washington SR 14.
Road Name: Washington State Route 141 / Gifford Pinchot Forest Service Road 23
Counties: Klickitat, Lewis(WA), Skamania
Length: 79 miles
Towns: B Z Corner, Bingen, Husum, Randle, Trout Lake, Underwood, White Salmon
Overview Map: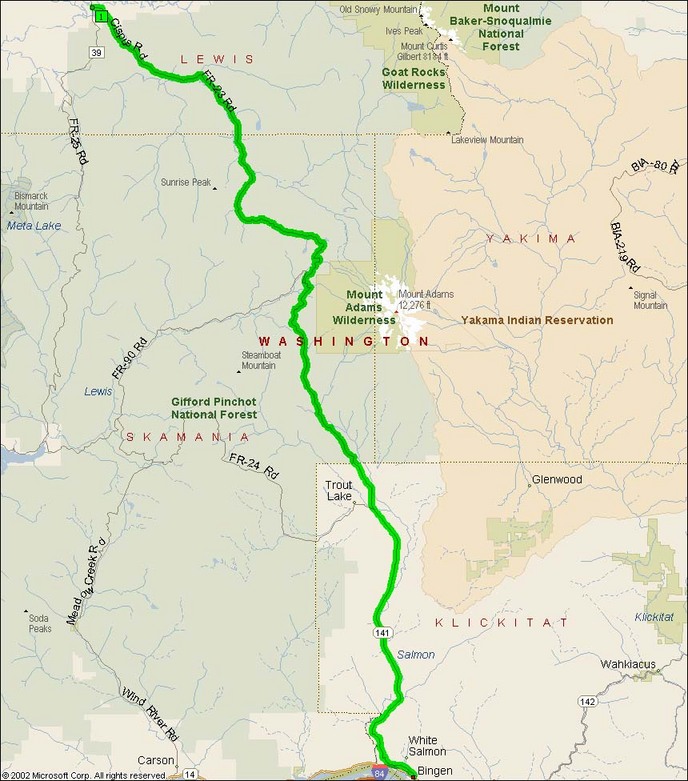 Google Map: