This road is an absolute delight. It fully justifies the occasional bragging from my Oregonite friends that the roads down there are far better than Washington's.
This one is easy to find too. If you're coming in from the Coast, it's the main road east out of Waldport. If you're coming in from West via Corvallis or down from US 20, there's a little turn-off to the south just west of Philomath.
This road is another that is amazingly empty in the off-season and weekdays. Most of the traffic probably goes up to the US Route to the north and leaves this one to the recreation seekers. On a March Saturday I saw 3-4 cars in an entire hour on the road, not including the guy behind me in the BMW X5 that was hitting the corners even harder than I was and blasting down the straights.
Very typical river view along this road: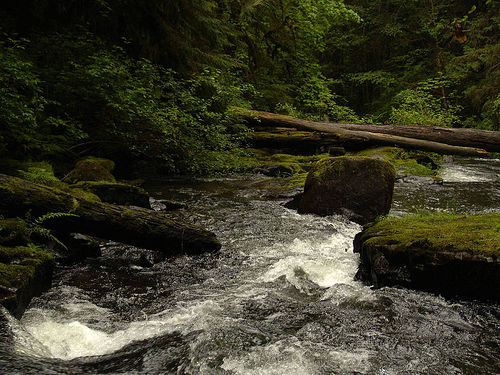 There's several stretches of this road that are just magical. The most notable one is called "Missouri Bend" since I guess it looks like the SE toe of Missouri. The curves are all 35-45 and almost all are linked with little straightaway between them. Even at this very early part of the season the roads were mostly clear of gravel with kibble merely in the centerline stripe.
Length: 56 miles
Towns: Alsea, Tidewater, Flynn, Waldport
Counties: Lincoln, Benton
Overview Map: