The passes north of Grants Pass, Oregon are an absolute delight. You're probably thinking, "But it's a four-lane freeway, it must have been horribly boring." Not so, not so. The sweeper were all marked at 50-55 which could easily be taken at 75 and as it was a rural Oregon freeway, the tractor-trailers would not only follow the posted 55 for truck, but would also pull over for faster traffic on the long uphill climbs. The weather is quite changeable that area. When I ran into extremely thick fog around Central Point (just north of Medford) in the early part of the morning, I was forced to sit for a couple hours at a Sheri's and wait out the 33F degree, 100-foot visibility blanket that lay over that part of the area.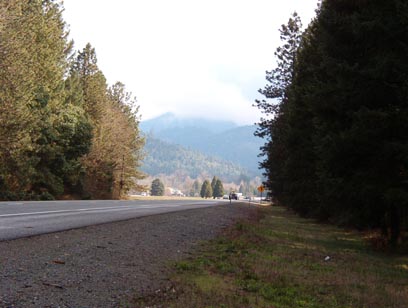 Grants Pass section of I5, looking North
The sweepers in this area were phenomenal for a freeway. Most of the Washington State passes have many blind corners, but very few curves here had curtailed lines of sight. In fact, it was quite reminiscent of Snoqualmie Pass, just without all the ridiculously heavy traffic. It's a far more enjoyable ride than any other West Coast slab route. And typically for Oregon, the scenery was flat fantastic. After a winter full of dreary Seattle grey, this trip though the Southern Oregon mountains was a great start to the riding season.
The three mountain passes that define this area are (North to South): Canyon Creek Pass, Stage Road Pass, and Sexton Mountain. While each of these passes are lower than most Cascade Range passes, they still receive a fair snowfall and should be treated with due respect in the cooler months.
Many crossroads can be found to explore from Grants Pass Highway. US199, OR 42, OR 138, and the highway leading to and around Crater Lake. Fine riding everywhere you look.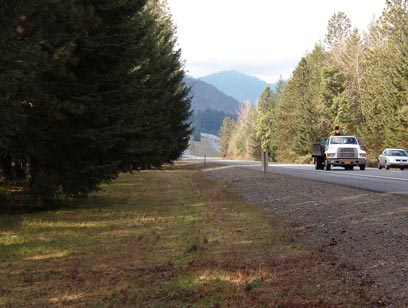 Grants Pass section of I5, looking South
Road Name: Grants Pass Highway (Medford, OR – Green, OR)
Counties: Douglas(OR), Jackson, Josephine
Length: 89
Towns: Azalea, Bolt, Booth, Canyonville, Carnes, Central Point, Dole, Foots Creek, Fortune Branch, Galesville, Glendale, Glendale Junction, Glengary, Gold Hill, Golden, Grants Pass, Grave Creek, Green, Hugo, Leland, Medford, Merlin, Myrtle Creek, Oaks, Pleasant Valley, Quines Creek, Riddle, Rogue River, Roseburg, Round Pairie, Ruckles, Seven Oaks, Shady, Sunny Valley, Surprise Valley, Tolo, Tri City, Tuft, Weaver, Wolf Creek
Overview Map: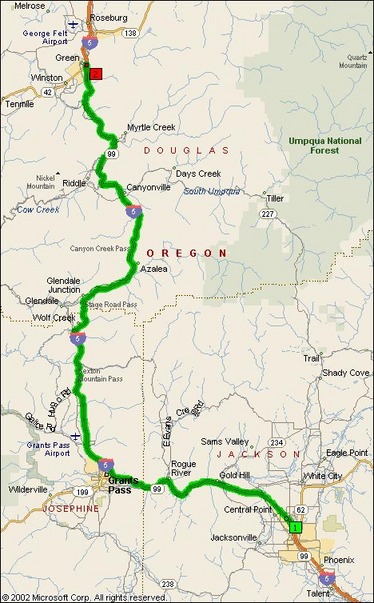 Google Map: