On a grey mid-October Sunday, I went up to Snohomish County to find some of the road the locals tend to frequent, and also tend to rave about.
Note: This road has become somewhat passe as it's also a favorite of some of the high-performance enthusiasts living on the east side of King County. Due to the antics and inevitable crashes of some ignorant twats, enforcement on this road has gotten very strict. Ride at your own risk.
When I remembered Ben Howard Road while eating lunch in Snoqualmie, I decided to ride it almost as an afterthought. Although I got fairly wet from the squalls rolling across the Puget Sound area, my perseverance was well-rewarded with one of the nicest roads within the Seattle area.
Ben Howard Road starts just south of Monroe and just north of the blink'n'missit hamlet of High Rock. the road is fairly well-marked, although if you're cranking at full tilt you might get surprised.
Counties: Snohomish
Length: 9 miles
Towns: Monroe, Sultan
The road is a fantastic way to get around the horrendous construction and nastiness that is US2 through Monroe. Ben Howard is lined, wall to wall really, with stables and dairy farms on both sides. The roadway is signed for 35mph and the sweepers can be taken a fair bit quicker than that without drama unless the roadway is wet (as it was on my trip).The road surface itself is quite nice, having none of the unpleasantness that a Seattle freeway commuter comes to expect. The majority of corners were clear of any noticeable bumps, tar strips, or gravel. Even the sweepers along the river were quite clear with just a few section of very light gravel between the car/truck wheeltracks. In essence, it's a nice, smooth, and moderately grippy road that lets you forget about suspension issues and just enjoy the road.
View of the Cascades from Ben Howard Rd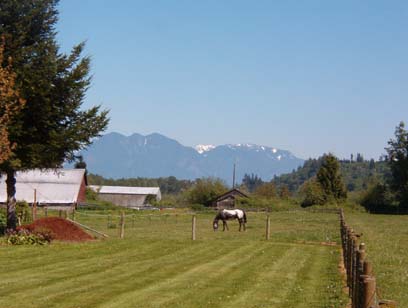 Ben Howard is much like Green Valley Road in South King County in many regards. The scenery and surrounding farms are much the same, with stables and dairy farms abound. Both roads flow quite near, but not always directly adjacent to a river. Both roads have lots of corners every couple hundred or so yards apart, with a nice mix of square corners and sweepers.On the east end of Ben Howard, the road is more of a wagon trail. The corners are 15-20 mph generally, with well-marked signs and clear sight-lines. Ben Howard Road ends due south of Sultan at the stop-sign for Mann Road.
If you're into roadway oddities, Mann Road has a pair of very strange perpendicular corduroy-style wooden bridge decks on a steel frame, making for nervous crossing in foul weather.
Overview Map: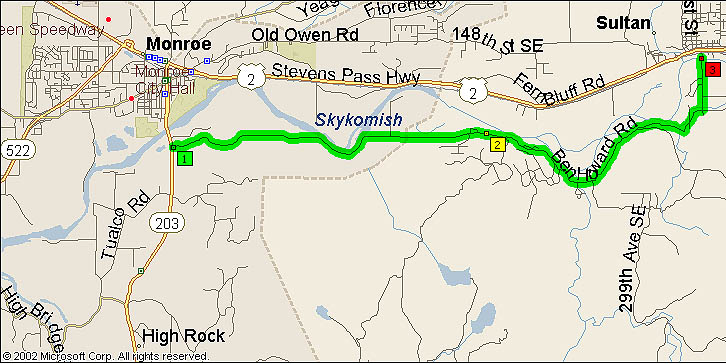 Google Map: