Oregon 42 is a fairly relaxed road with most sweepers in the 40s for posted speeds. Running west to the coast out of the Roseburg vicinity, 42 meets the Middle Fork of the Coquille River a few miles west of Camas Valley and follows the river valley (in a general fashion) down into the town of Coquille and continues north to the Coos Bay.I ran into some construction on 42 outside of Green (Roseburg) but I believe it was affecting the Umpqua River bridges rather than a road project. Farther on out toward Tenmile there was a 10 minute wait road closure with pilot vehicle, which was not on my AAA triptik map nor was it listed via Streets & Trips Road Construction facility.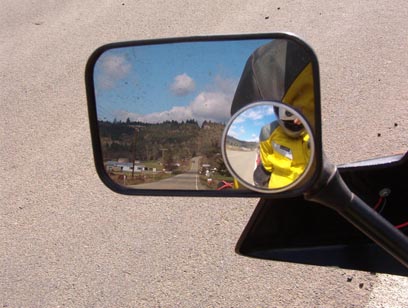 Views from the countryside surrounding Oregon 42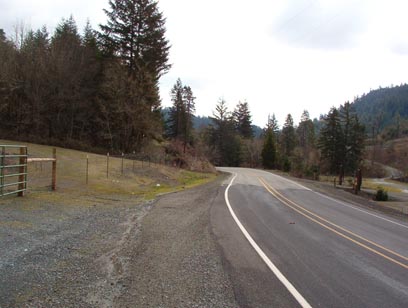 The scenery along 42 was quite nice, also fairly typical of western Oregon. The section around Winston is still rural, but 42 quickly fades into evergreen forest and logging trucks. The logging trucks were quite plentiful on this road, clearly even in early March there is logging activity in the coastal range.
Even for this early in the riding season (or even before it if you don't like rain & wet), 42 was fairly free of gravel. The road was of decent quality, with a fair amount of tar holding together a uniform gravel pavement. The Bambi scale was pretty high on this road as I noticed quite a few places where game would be crossing the road, but none were actually seen as it was noonish and getting on toward lunchtime for me.
Road Name: Oregon Route 42 (Roseburg-US Route 101)
Counties: Coos, Douglas(OR)
Length: 75
Towns: Bridge, Brockway, Camas Valley, Cedar Point, Cheney, Chrome, Coaledo, Coos City, Coquille, Delmar, Green, Green Acres, Henryville, Johnson, Myrtle Point, Norway, Overland, Remote, Roseburg, Tenmile, Winston
Overview map of Oregon State Route 42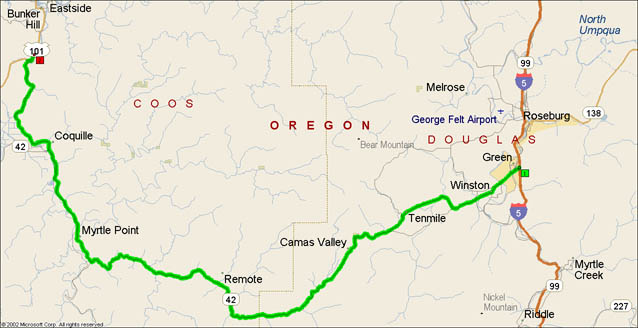 Google Map: