Oregon Route 7 runs across the section of Eastern Oregon where three big National Forests meet, starting in Austin Junction along US 26 and ending in Baker City near where US30 and I-84 rejoin.
The western section of this road runs up into and through the Blue Mountains. Near Sumpter, it enters the Powder River Valley and follows this valley first southeast and eventually curves around to head northeast and into the Baker Valley.
If you're still looking for great roads when you get close to Baker City, you can head south instead of north to Baker City and partake of Oregon 245. Oregon 7 used to run over that alignment, but was switched to the current route because the old one was too twisty and hilly in the section immediately south of the 7/245 junction. It's about 30 miles out and back that are added to the trip, but I recommend it.
Counties: Baker, Grant
Length: 50 miles
Towns: Austin, Austin Junction, Baker, Baker City, Bates, Denny, Larch, Lockhart, McEwen, Salisbury, Stewart, Summit, Thompson
Overview Map: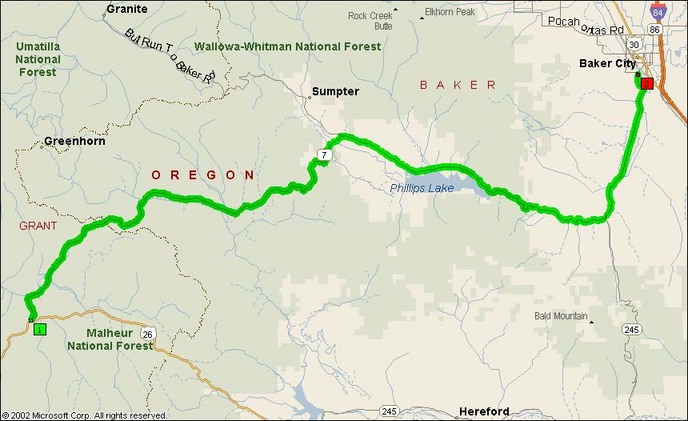 Google Map: